Hiring Employees Who Drive? You Need a Phased Background Screening Process.

You can meet FMCSA background check requirements AND customize your screens for specific employee positions in Dash.
No matter what precious cargo your employees get from place to place, you trust them to get it safely. That trust is earned through honest, hard work throughout their employment, but how do you establish this trust from the beginning, when you're hiring for positions that require driving?
Putting safe, qualified employees in the driver's seat comes down to the background checks you're running. And if you're tired of wasting time, money, and resources by ordering multiple screens at once that ultimately don't result in a successful hire, there is a solution.
Phased background screening is the way of the hiring future. You can start using it now in Dash, Foley's new hiring, onboarding, and background check software.
Keep reading as we unfold the following on the phased screening process:
An overview of what phased background checks look like

The advantages of phasing out your background screens

A walkthrough of customizing your background screens in Dash
Soon you'll wonder why you ever relied on a one-size-fits-all approach to your background screens.
What is phased background screening?
Let's start with a common hiring scenario: a candidate applies to your open position, their application looks strong, and you have a positive phone interview with them. Now it's time to order all the background screens you need on them at once, right? Not ideally, no.
Here's why: if you execute (and pay for) all your required background checks for a candidate at one time, you could potentially waste valuable resources.
If just one of the multiple screens comes back with a red flag result, such as a recent accident or multiple traffic violations on their motor vehicle report (MVR), you've likely already decided they're not an ideal fit for your safety-sensitive position. The results of the DOT physical, drug test, and the other screens you've already ordered simply don't matter, and you could have used these resources on another, more promising, candidate.
Phased background screening allows you to execute your most important, job-specific screens first so you can get the best look into your candidate's history without spending more on unnecessary screens.
What are the advantages of phased background screening?
As we've highlighted, running the most crucial background checks first and foremost gives you the necessary information to determine if a candidate is simply qualified for your open position. In addition to this, you can choose which screens you want to run and when. This is where the "phased" part of phased background screenings comes into play.
In Dash, you can customize which applicant screens you would like to run at specific points in the hiring process. For example, if your company strictly hires drivers who do not have any recorded accidents within the last three years, it's best to run MVRs on candidates first to ensure they meet your criteria.
Here's what you'll see in your Dash platform when your candidate's MVR results are ready: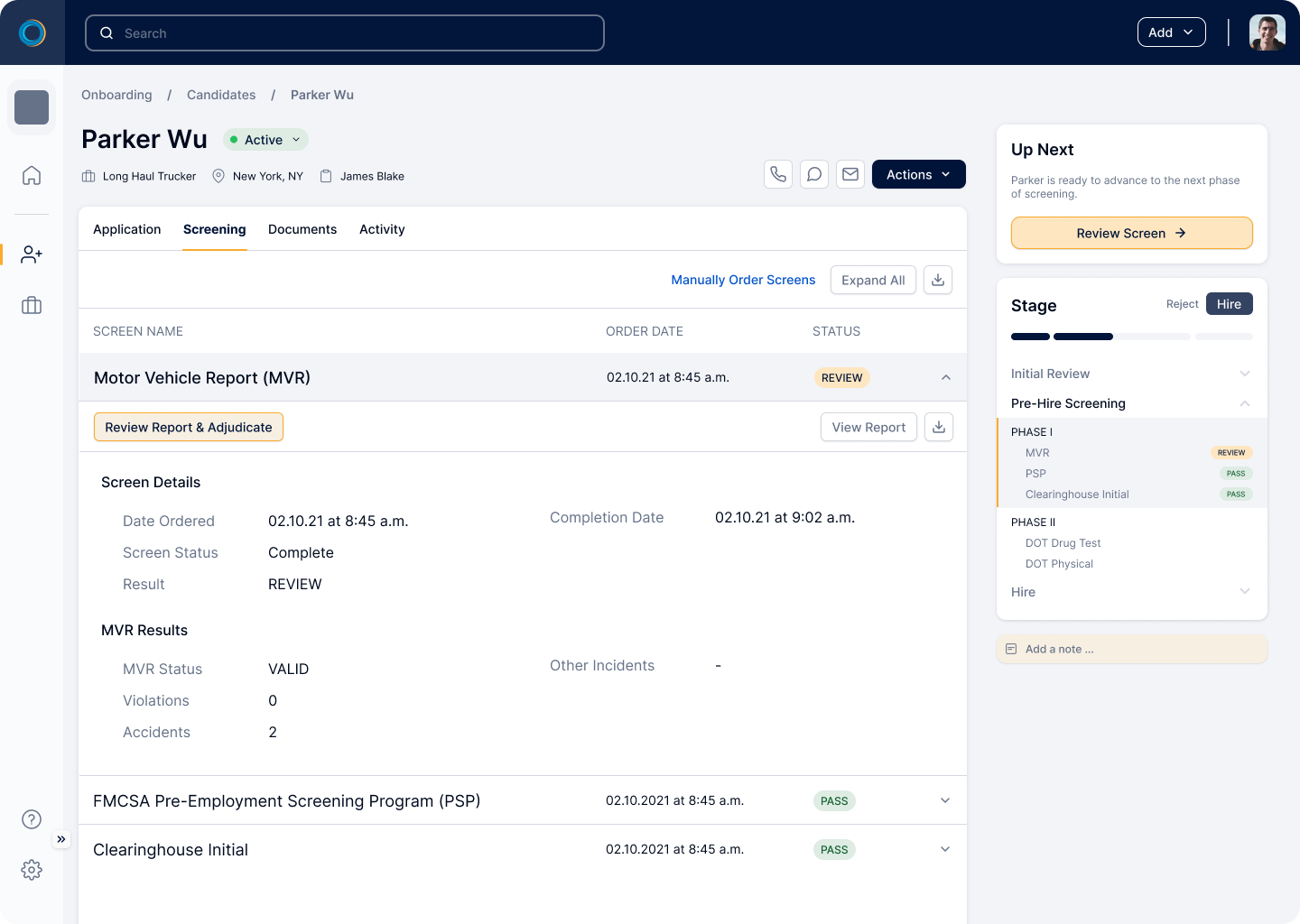 Once the MVRs are complete, you can then decide to eliminate the applicant from your hiring pool or initiate the other key screens.
How can I customize my background screens in Dash?
The applicant's screening configuration above includes an MVR, Federal Motor Carrier Safety Administration Pre-Employment Screening Program (PSP) check, and pre-employment Clearinghouse query in phase one, then the DOT drug test and DOT physical in phase two. Any of these screens can be swapped into each phase to meet your specific requirements for the unique position you're filling.
No matter which screening configurations you create in Dash, you will receive an email notification summarizing when the screens were ordered and completed, as well as the general results of each one.
Keep in mind, if the employee you're hiring will be performing safety-sensitive duties regulated by the FMCSA, such as driving a commercial motor vehicle (CMV), you must complete all FMCSA background check requirements. We've covered all the necessary background checks in this helpful Foley eBook.
All background checks initiated in Dash are DOT and FCRA compliant, and the necessary candidate authorizations and disclosures are collected in the mobile-first job application. With our onboarding software, there's no need to stress the legalities of your employee screening process.
See Phased Screening in Dash for Yourself
Long gone are the days of following an inconvenient and costly background screening process that simply doesn't work for each of your company's unique positions. In Dash, you can create custom screening workflows according to the specific needs of each candidate you're onboarding. It's the way hiring employees who drive is meant to be.
Schedule a free demo of Dash, Foley's intuitive hiring, onboarding, and background check software now. You'll experience how easy it is to screen candidates and ensure they're the safe, qualified professionals your business needs.