8 Social Media Screening Myths, Busted!
Don't get distracted by all the noise! Learn the FACTS when it comes to social media background checks and ongoing social media monitoring. This free guide busts some of the biggest myths while arming you with the insights you need.
Say hello to Social Media Screening Done Right.
At Good Egg, we offer two options: pre-employment social media background checks of applicants and ongoing social media monitoring of employees. Choose one or both—the choice is yours!
How Does Our Pre-Employment Social Media Background Check Work?
A person's digital footprint provides a wealth of information regarding their character—info you can use to hire better employees who are the right fit for your organization.
Good Egg's social media background check solution will scour an applicant's online activity for behaviors that could put your company at risk. It identifies and flags the following:
Hate speech
Insults and bullying
Narcotics
Obscene language
Self-harm
Threat of Violence
Toxic Language
Drug-Related Images
Explicit/Racy Images
Violent Images
Most importantly, our social media background checks are conducted in a compliant manner and redact protected class information, such as race, color, age, sex, religion, disability, and so forth. You get the insights you need to make better hiring decisions, while protecting the job candidate's right to privacy. And everything is delivered quickly and cost-effectively.
That's a win-win for everyone.
Why Consider Social Media Monitoring of Employees
Think about what happens once you make a hire. If you did a social media background check as part of the pre-hire screening, that's great. But your current employees are still active on social media, right?
Monitoring their ongoing activity will alert you of any issues that come up over time (like potentially illegal activity, sexually explicit material, demonstrations of racism/intolerance, and so forth). This will help you and your organization be proactive rather than reactive. And again, our ongoing social media monitoring is done in a compliant matter that respects your employees' privacy.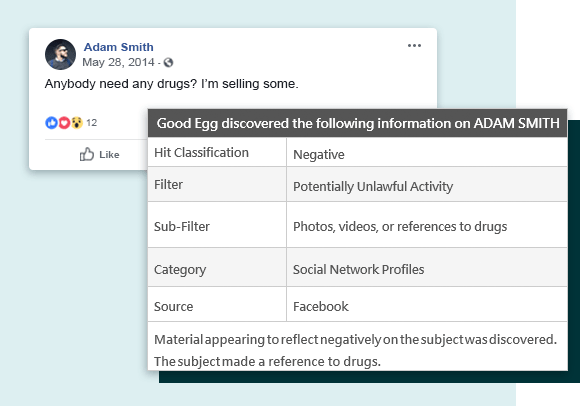 Features & Benefits
Compliant with EEOC, FCRA, and state privacy laws – this limits any liability to your organization
Verifies candidate using more than one identifier – we use multiple "identifiers," including name, DOB, email (just to name a few), so that nothing falls through the cracks
Uses unparalleled artificial intelligence – our AI is powerful, precise, and fueled by human oversight so you can have confidence in our social media background check findings
Is available as a one-time social media background check pre-hire, a continuous social media monitoring service on current employees' social media activity, and/or something you bundle with our other background check solutions
Provides helpful insights without prying on people's personal lives – we keep the concept of "Big Brother" in check so you (and your future and/or current employees) can rest easy
Integrates easily into your current background screen, so it's no extra work for you or your candidate!

Frequently Asked Question about Social Media Screening
Is it legal to conduct a social media background check on applicants or social media monitoring of employees?
The short answer: it depends.
The longer answer: A compliant social media screening is legal. But the key word is "compliant."
By compliant, we mean a social media background check that...
Provides relevant authorizations/disclosures and gets explicit permission from the candidate/employee to conduct the social media screening.
Focuses only on business-related information and redacts protected class information when presenting results.
Does not use any sort of hacking, scraping, or otherwise illegal or unethical ways to gain access to social accounts.
Makes a good-faith effort, as dictated by law, to ensure the correct person is being reviewed (in other words, making sure you're seeing information on the "right" John Smith, for example).
If hiring managers conduct a social media background check on their own, they will encounter protected class information in addition to business-related "actionable" content. But a quality social media vendor like Good Egg will make sure you see only business-related info; protected class info will be redacted.
The number of employers who chose not to hire a candidate because of what they found on social media sites.
[Source: CareerBuilder]
The number of employers who continue to monitor employees' social media activity.
[Source: CareerBuilder]