Women in Transportation: Celebrating Industry Pioneers

This Women's History Month, We Honor Those Who Paved the Way for Today's Truckers
If you're a regular reader of our blog, you likely know that we're big proponents of diversity in all areas of the trucking industry. In particular, we applaud the Women in Trucking Association and its ongoing efforts in bringing gender diversity to transportation.
Of course, the idea of women taking the industry by storm isn't a novel concept. In fact, women have had a long and storied history in the transportation industry, even if most folks don't know the names of these pioneering women off the top of their heads.
What better opportunity to become familiar with some of their stories than Women's History Month? Below, we're highlighting several women whose names are worth remembering.
Mary Fields

Alice Ramsey

Luella Bates

Lillie Drennan

Marilyn Jorgenson Reece

Elizabeth Dole
Mary Fields (a.k.a. "Stagecoach Mary")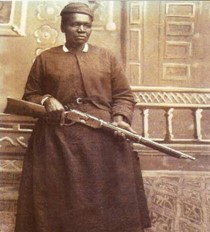 Born into slavery in the 1830s, Mary became the first African American female star route mail carrier in the United States.
As History.com explains, a star route carrier is basically a freelancer or an "independent contractor who carried mail using a stagecoach." This was no easy task, especially for a woman—and even more so for a Black woman in the Wild West.
History.com notes that Stagecoach Mary "carried a rifle and a revolver. She met trains with mail, then drove her stagecoach over rocky, rough roads and through snow and inclement weather. And though she intimidated would-be thieves with her height and her tough demeanor, she became beloved by locals, who praised her generosity and her kindness to children."
Alice Ramsey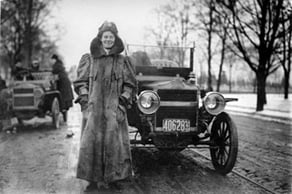 Do you remember what you were doing when you were 22? Because in 1909, at the tender age of 22, Alice Ramsey made history as the first woman to drive across the United States.
According to Smithsonian Magazine, the 3,800-mile trek, which began in New York, took 59 days.
And guess what? The trip was essentially sponsored.
See, Alice had taken to driving after her husband bought her a car in 1908. She practiced and racked up 6,000 miles in the process.
When she entered a 200-mile "endurance" drive, the Smithsonian Magazine says that a "man representing automaker Maxwell-Briscoe Company marveled at her driving prowess and came up with an idea. He proposed an all-expenses-paid trip, courtesy of the company, if Ramsey showed the world that a Maxwell could take anyone—even a woman driver—all the way across America."
Alice was at the wheel during the entire trip, but she was accompanied by three companions: her two sisters-in-law and a 16-year-old female friend.
Keep in mind this trip happened long before people regularly traveled long distances. Alice and her friends relied on automotive guides called "Blue Book" series. The only problem? At the time, those guides didn't exist for roads west of the Mississippi. Oops!
But that didn't stop this feisty foursome. They pushed on and reached their destination in San Francisco on August 7, 1909.
Check out Smithsonian Magazine for an excellent summary of the trip along with lots of wonderful anecdotes. Or you could read Alice's own account in her book titled Veil, Duster, and Tire Iron.
Luella Bates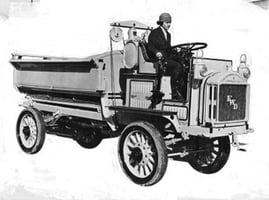 Born in 1897 in Wisconsin, Luella Bates became a truck driver with rock star-like status. She also worked as a mechanic and truck inspector.
How it began: Luella was one of about 150 women brought on by Four Wheel Drive (FWD) Auto Co. during World War I to fill positions left by men who went to war. After the war, she was one of the few women who stayed with the company.
At FWD, Luella started out as a tester and demonstrator of the company's trucks. After the war, she took on additional roles, including goodwill ambassador. And this is where her legendary status began to take shape.
FWD sent Luella on tours across the U.S. to state fairs and auto shows where she demonstrated the company's four-wheel drive trucks. According to the U.S. Department of Transportation, the idea behind these press opps was to show the world that the truck was so easy to steer, even a woman could drive it.
During her stint at the New York Auto Show in 1920, Luella became the first woman truck driver to receive a driver's license in New York.
Luella was a regular subject in many publications, including a blurb that appeared in the May 1920 issue of Popular Science Monthly titled "She's a Truck Driver." The article notes, "Not only does she drive her own truck, but she does all of the repairing herself."
The Daily Republican, a newspaper in Pennsylvania, published an article on June 30, 1920, that shares Luella's response when asked if "a girl can be as good as a mechanic as a man?"
The paper reported: "Certainly, women make as good mechanics as men," said the girl driver. "Didn't the war prove that women could step into virtually every brand of industry and successfully replace men?"
This pioneering woman died in 1985 at the age of 88.
Lillie Elizabeth McGee Drennan

According to the Texas State Historical Association (TSHA), Lillie Drennan was the first woman to hold a CDL in Texas (in 1929) and the first woman to own her own trucking company in the U.S.
She operated Drennan Truck Lines for nearly twenty-four years.
The TSHA goes on to describe Lillie as a "colorful" character: "Attired in her khaki pants and shirt, laced work boots, and a ten-gallon hat, she placed a loaded revolver by her side when she drove, although she never used it. She insisted upon training every driver she hired; she sometimes kicked her employees in the seat of their pants and threatened, in her foghorn voice, to 'pistol-whip' or 'brain them with an iron bar' for violating her rules. When criticized for her cursing, she responded, 'Me and God have an understanding.'"
Marilyn Jorgenson Reece
Not everyone has to spend their daily lives driving long hauls to push the transportation industry forward.
Take Exhibit A: Marilyn Jorgenson Reece.
According to the U.S. Department of Transportation, in 1954, Marilyn became California's first female civil engineer for the state's Division of Highways.
She went on to design the I-10/405 interchange, which is now named after her. Later, she worked on the construction of the I-605 Freeway, the I-210 extension, and the I-105 Century Freeway.
DID YOU KNOW?
According to the US Department of Transportation, the Girl Scouts started an "Automobling" Badge in 1916. To earn this badge, girls had to "demonstrate driving skills, auto mechanics, and first aid skills." Today, the Girl Scouts now offer a wide variety of automotive engineering badges for girls K-5.

Elizabeth Dole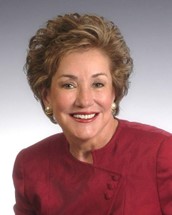 Speaking of the Department of Transportation, Ms. Dole became its first woman Secretary when she was sworn in on February 7, 1983, a position she held until September 30, 1987.
Fun fact: When Ms. Dole assumed this role, she also became the first woman to serve as the departmental head of a branch of the U.S. military—at the time, the U.S. Coast Guard was under the Department of Transportation.
This impressive woman, who'll be eighty-seven later this year, was no stranger to "firsts" during her long career. According to the Dole archives, she was also the first woman to serve in two different cabinet positions under two different presidents.
Let's keep on encouraging more women to enter the transportation industry.
From introducing young girls to careers in transportation through books to promoting inclusivity throughout the industry's ranks, we can all do our part in making sure this fabulous industry remains open and accessible to anyone who wants to get involved, especially women.
To that end, at Foley, we can help trucking companies, large and small, improve their hiring processes so they can attract more women. Interested in learning more? Let's talk!